The 3 best Niagara Falls Casinos you must visit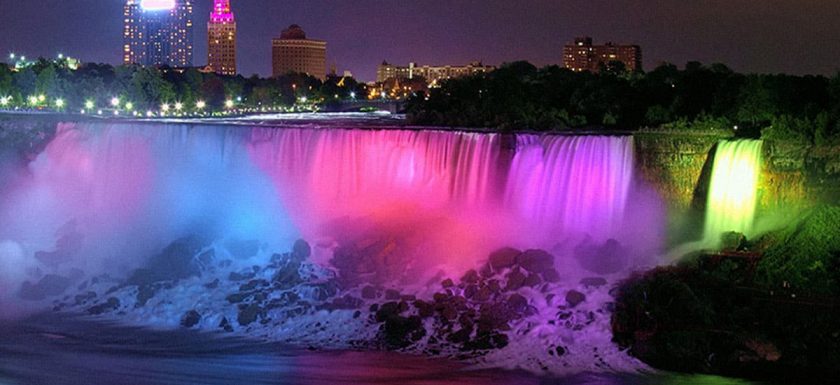 Niagara Falls, one of the world's most talked-about attractions, has many natural spectacles, spacious parklands, luxury hotels, and of course, exciting casinos!
But how many exactly? And how are Niagara Falls casinos different from the other casinos in Canada and America?
How many casinos are in Niagara Falls?
Niagara Falls has some of the world's best casinos open for public access. There are three in total; the list of casinos in Canada is two, whereas the third is in the United States.
All three Niagara Falls casinos cover a space of over 440,000 sq. ft. of gaming area. And this space is filled with the kind of attractions you won't find anywhere else in the world!
Combined, they have over 8000 gaming machines, 285 poker and table games, and three sports betting centers.
Furthermore, all three Niagara Falls casinos are within walking proximity, and each one offers a unique experience, numerous gambling options, and exciting gaming floors. If, for some reason, you can't visit land-based casinos in Niagara, you can always try online casino Canada any time you want.
Casino Niagara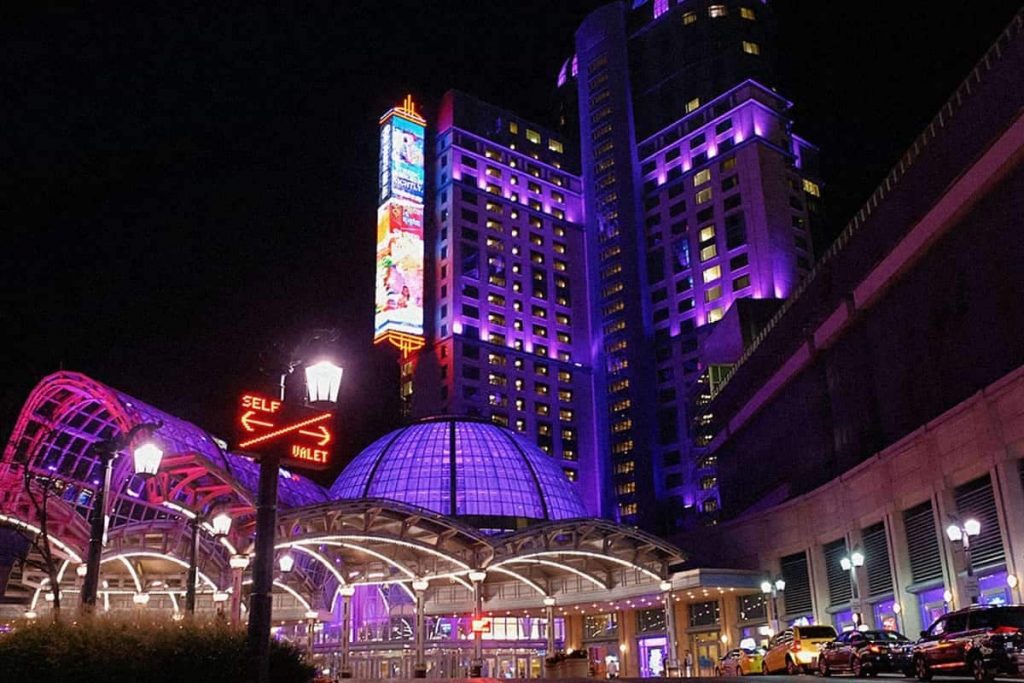 Whether you're into Casino War, classic Blackjack, or poker, this Ontario casino by the Niagara falls will make sure you leave as a winner!
The Casino Niagara is operated by the "Mohegan Gaming and Entertainment" group and is owned by the "Ontario Lottery and Gaming Corporation."
Despite being smaller than Niagara Fallsview Casino, it has both new and old gaming machines and is an overall well-equipped gaming institution.
The Niagara Casino is jampacked with several top-of-the-line video poker machines, slot machines, and table games like roulette, baccarat, and blackjack. 
Off-track betting, multisports wagering, and numerous other diversions from table games are also available at Casino Niagara.
Within this posh Niagara Falls Casino, you'll find various lounges, a comedy club, and some of the best Casino Niagara restaurants for fine and casual dining.
Here are few features of Casino Niagara:
The casino has 95,000 sq. ft. of gaming space
1600 gaming machines
64 poker and table games
4 restaurants
1 hotel
1 bar
Valet-parking is available
Location: 5705 Falls Avenue, Niagara Falls, Ontario L2E 6T3 Canada
Phone – (905) 374-6928
Casino Niagara hours: Mon-Sun (24 hours open)
Fallsview Casino Resort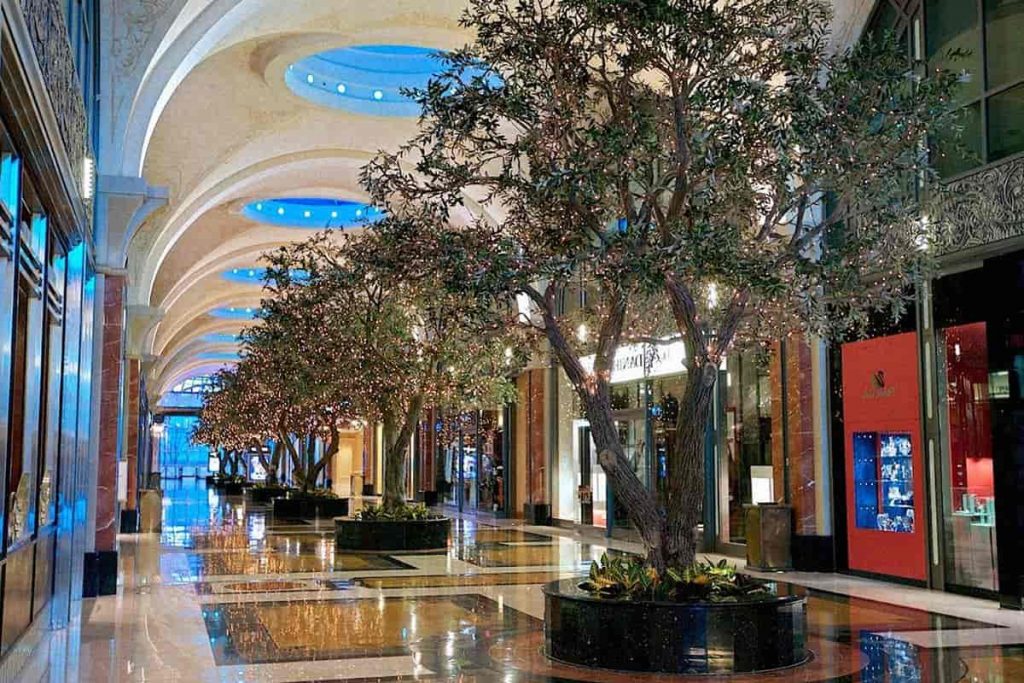 When the sun sets, Fallsview Casino lights up! Celebrate a memorable night at this famous Niagara falls institution with unrivalled gaming and luxury opportunities!
You'll find 150 gambling tables and a thousand more slot machines, as many as in online casinos across Canada, waiting for you to play and win at the Niagara Fallsview Casino.
If you aren't much of a gaming person, the Avalon theatre (which hosts several events and concerts every year) and scattered shopping areas will keep you delighted and entertained.
Within the casino, you'll also stumble upon one of the best spas and golf courses. And if you feel a hunger pang, it also houses a dozen well-known restaurants to dine at.
Located on the west of "Skylon Tower," Ontario, Canada, this Niagara Falls Casino offers free entry to all. Still, it would be best to have the wallet ready for a wild night of games, shopping, and above all, winning!
This is a game-of-chance facility that may dent your credit card because the best experiences usually come with a price! The minimum age to enter the casino is 19 years, and it's open year-round, 24/7.
Here are few features of Niagara Fallsview Casino:
The casino has a 225,000 sq. ft. gaming space
More than 1000 gaming machines
150 poker and table games
Numerous restaurants catering to different cuisines
The Avalon Theater
Shopping arenas
Location: 6380 Fallsview Blvd., Niagara Falls, Ontario, L2G 7X5, Canada
Phone – (905) 358-3255
Niagara Fallsview Casino hours: Mon-Sun (24 hours open)
Seneca Niagara Resort & Casino
The Seneca Niagara Casino, New York, US, is a huge Vegas-style resort and is the only US casino located near Niagara Falls.
This Niagara Falls Casino attracts guests throughout the year. Most of them check-in for entire weekends to take advantage of its unmatched gaming and luxurious hotel facilities.
On any given day, you can take a stroll to the world's famous Falls and enjoy in-house slots. The Seneca Niagara Casino has a four-diamond rated resort and hotel with 604 suites and rooms.
You'll also find more than 80 tables, live poker games, and approximately 2500 gaming machines.
The casino also has some of the best Niagara Falls restaurants that cater to casual and formal dining occasions, spanning across various cuisines. Plus it has seven shops and a spa.
From family getaways to honeymoons and more, the Seneca Niagara Casino will make for a truly memorable vacation!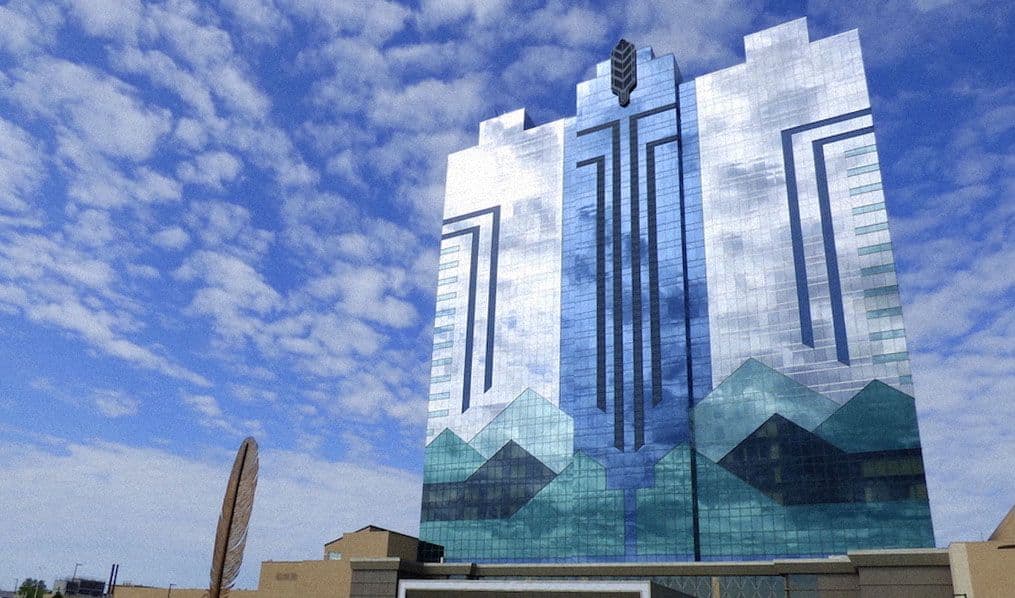 Here are few features of Seneca Niagara Casino:
The casino has a 147,000 sq. ft. gaming space
More than 2500 slot machines
80 poker and table games
Numerous restaurants
Shopping space
One hotel with 604 suites
Location: 310 4th St, Niagara Falls, NY 14303, United States
Phone – +1 (877) 873-6322
Seneca Niagara Casino hours: Mon-Sun (24 hours open)
Which Niagara Falls casino is better?
Though all three casinos in Niagara Falls are excellent as they offer amazing views of the Falls and a wide variety of gaming space, the Fallsview Casino Resort, Ontario, Canada, is arguably the best choice!
It offers a more glamorous view of Niagara Falls and the ever-fascinating panoramas of "Horseshoe Falls" and the "American Falls."
It also has many on-site amenities such as concert venues, nightclubs, shopping malls, restaurants, and, of course, the amazing gaming space.
Land based casino Niagara FAQ:
Are casinos reopening in Ontario?
Many Ontario casinos are reopening with strict COVID-19 precautionary measures and protocols. Most of the casinos in Ontario, Canada, are operating now with 40 to 50 people.
Is parking free at Casino Niagara?
Though Casino Niagara has ample space for self-parking, you must pay a fee. But you can get free parking if you sign-up for the "Players Advantage Club" membership card and use it while playing table or slot games.
Do you have to pay to enter a casino?
You don't have to pay a penny to enter a casino as all three Niagara Falls Casinos have free entrance.
Recent Posts
2021-04-14